Saint Nicomedes
Martyrs burying martyrs.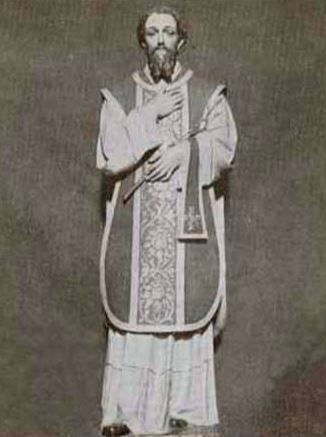 After Saint Petronilla chose death over marrying a Roman official, her sister Saint Felicula was suggested as a replacement. When she refused, she was locked in prison without food or water, then thrown, starving, into a sewer, where she died.
Saint Nicomedes, who'd supported both sisters' dissent, gathered Felicula's bones, took them to his small house outside Rome, and gave her a proper burial. Someone discovered Nicomedes had done this, and they killed him too. To rob him of the Christian burial he'd given Felicula, they threw his body in the Tiber River.
But the chain of saints went on. A swimming Saint Justus boldly rescued Nicomedes's remains and took them to a tomb, where they lay for some 700 years, until an anti-relic emperor cast the bones back in the sea. But they were rescued once again: today, they're in the church of Saint Praxedes in Rome.