Saint Kateri Tekakwitha
The first Native American saint.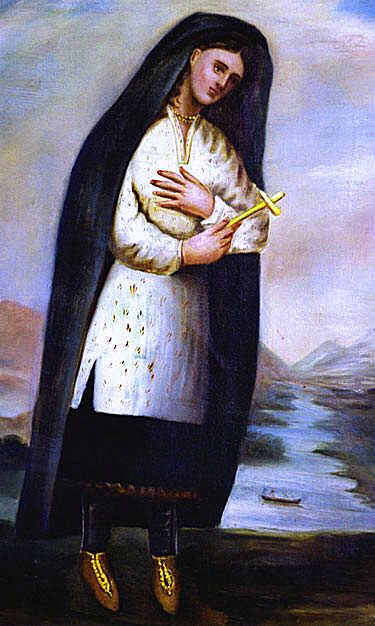 Kateri Tekakwitha was born in upstate New York, about 40 miles west of Albany, in 1656. Her father was a Mohawk chief and her mother was an Algonquin Christian — they both died, alongside her baby brother, when Kateri was 4, during a small pox outbreak that left her scarred and partially blind. Growing up, she covered her head with a blanket. Tekakwitha means She Who Finds Her Way With Her Hands.
The uncle that raised Kateri disapproved of Christianity. In the decade before Kateri's birth, Mohawks in her village had enslaved then martyred three Jesuit missionaries. One of her uncle's daughters had already converted and left the tribe. He took away the rosary beads Kateri's mother had given her. When his family tried to arrange various marriages for her, she refused.
In fact, she vowed chastity, and, when that alienated her from everyone she knew, she traveled 200 miles by foot and canoe to enter a missionary camp near Montreal. There, she enacted extreme penance, putting hot coals between her toes and wearing a belt studded with sharp points. When she died, at just 24, the scars on her face disappeared.